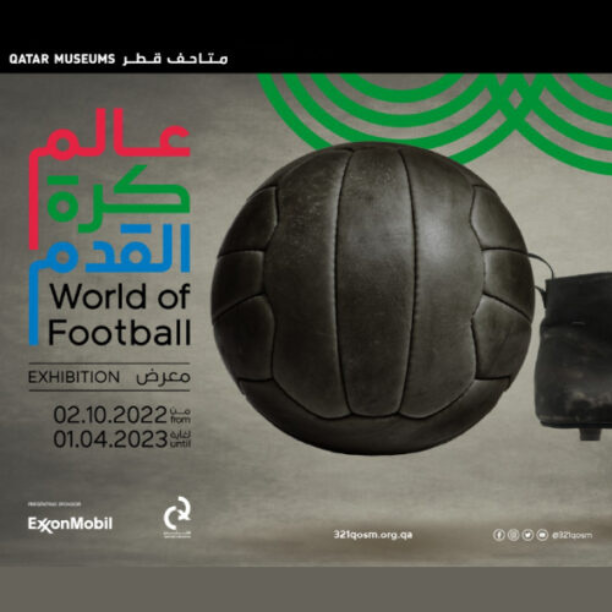 World of Football Exhibition
02/11/2022 - 01/04/2023 (Next Date: 02/11/2022 - 01/04/2023)
Location: 3-2-1 Qatar Olympic and Sports Museum
Qatar is set to make history as the first Arab country to host the FIFA World Cup. The 3-2-1 Qatar Olympic and Sports Museum (QOSM) marks this occasion with the special exhibition World of Football.

Visitors will be able to relive memories of some of the greatest World Cup moments of the past, get behind the scenes of Qatar's successful bid to welcome the world, and see our plans for the future.
Among the exhibition, highlights are the jersey worn by Argentine great Diego Maradona described by many players as "the greatest player of all time" when he scored twice to give Argentina a 2-1 lead against England in the quarterfinals of the 1986 FIFA World Cup. His second goal was nominated by FIFA.com users as the "goal of the 20th century".

The jersey is on loan to the exhibition after being sold at auction in May 2022, when it became the most expensive piece of sports memorabilia ever purchased.

Additional objects featured in the exhibition include a football used in the finals of the first World Cup tournament in 1930; the first written account of the rules of football, determining how the sport is played; Pele's Santos shirt from 1973, the year he came to play in Doha; and jerseys worn by some of the sport's all-time greats.
Date: 2 October 2022 – 1 April 2023
Museum's Timings:Saturday–Thursday: 9 am - 7 pm, Fridays: 1.30 - 7 pm
Location: 3-2-1 Qatar Olympic and Sports Museum
There's nothing like "extra time" in an exciting match, and that's what the final section of the exhibition, History in the Making, is about. This section is designed to grow during the exhibition, as objects and artifacts are added to celebrate and record historic milestones as teams make new World Cup history.